After picking out a snowboard and a pair boots, the next item is getting yourself some womens snowboarding bindings. Bindings help keep your feet strapped to the snowboard for maximum control. Much like other snowboarding equipment, bindings come in a flex rating from soft to stiff and can be suited to different types of riding. We'll cover the anatomy of a snowboard binding and the different mounting systems that snowboard brands use.
After you finish reading the ultimate womens snowboarding bindings guide, you'll understand how bindings work, how they can be adjusted and what type of binding is going to suit you. Let's get into it!
The Ultimate Womens Snowboarding Bindings Guide
What's the Difference between Women's and Men's Snowboard Bindings?
Snowboard Binding Sizes
Snowboard Binding Flexibility
Pair Bindings to Your Riding Style
Diagram of Womens Snowboard Bindings
Types of Snowboard Bindings
Different Mounting Systems
Where to Buy Womens Snowboarding Bindings
What's the Difference between Women's and Men's Snowboard Bindings?
Womens snowboarding bindings are much different from mens, as they tend to be lighter in weight and offer up smaller sizes (unless you are a large footed woman, which is completely okay). Women tend to require a different setup when compared to men in regards to snowboarding, mainly because the two genders have completely different body types. Men are a bit more burly and weigh more, while women are going to have more weight in their lower body (but maintain a smaller body in general). You want bindings that can support the strength that you have to offer while allowing you to ride with comfort.
The first thing you'll notice when going to purchase snowboard bindings is that they don't come in a wide array of sizes like boots do. They are typically manufactured in three general sizes (small, medium and large) that will fit a range of boot sizes. Here's a women's snowboard boot to binding size chart:
Snowboard Binding Flexibility
Just like other snowboarding gear, snowboard bindings are measured on a flex rating. Many brands will give a number rating ranging from 1-10, 1 being softest and 10 being stiffest. Flex ratings and feel may ultimately vary from binding to binding.
Softer flexing bindings are usually constructed with composite plastics that can bend and twist while still maintaining their shape. Stiffer bindings are made with more dense plastics, carbon fiber and sometimes aluminum. These materials can make bindings lighter but stiffer and more responsive.
Beginner snowboarders tend to purchase softer flexing and less expensive pairs of bindings. More advanced riders will want to purchase more expensive and responsive bindings.
Pair Bindings to Your Riding Style
Generally speaking, you'll want to match the flex of your snowboard boots to your snowboard bindings.
So, if you have soft flexing boots you'll want soft flexing bindings. This will help riders learn the beginner's progression of snowboarding faster.
And if you have stiffer boots you'll want to pair those with stiff flexing bindings. By pairing the flex of your gear you will create a predictable snowboarding experience.
Snowboard bindings can fit into three general riding style categories.
Park or Freestyle
Snowboarders who spend the majority of their time in the terrain park hitting jumps and rails are considered park or freestyle riders.
Snowboard bindings in this category generally offer a softer flex allowing for more forgiveness to correct errors, easier landings, and the ability to tweak grabs.
All-Mountain
The all-mountain category includes riders who do a little of everything: powder, groomed runs, terrain park, etc. These bindings usually have a medium flex for all-purpose use.
An all-mountain binding is great for a snowboarder who has passed the beginner's progression and is riding at a more intermediate level. They also make great bindings for snowboarders looking to become snowboard instructors.

Freeride
This category is all about hard carves and turns. These bindings have a stiffer flex for better response and energy transfer to your board meaning you'll sustain control at higher speeds. Snowboarders who ride big mountains in the back country generally tend to go with stiffer bindings.
Diagram of Womens Snowboard Bindings
Several different components make up womens snowboarding bindings, all of which are important and provide a function. There are different types of bindings, which I'll discuss more about, but this diagram illustrates a typical strap-in binding.
Heelcup
The looping portion that wraps itself around the heel of your snowboard boots is known as the "heelcup". These are to prevent you from sliding out of the backside of your bindings, and it also gives the highback a spot to attach itself to. There are plenty of material choices that are used for heelcups. Most often metal (aluminum or magnesium) or polycarbonate (dense plastic) are used. Magnesium is a strong but very lightweight metal and are used in the construction of heelcups for Union Bindings. This provides more durability and power potential.
Highback
This is the part located at the back of your bindings that sits vertically. The backside of your boot rests against the highback, giving you support and stability. Highbacks provide control as you twist and steer your snowboard through turns. Highbacks usually have cool shapes and holes where material has been taken out to reduce the overall weight of the binding.
Forward Lean Adjuster
Forward lean is the amount of "forward angle" on a binding's highback. The more forward lean, the further forward your calves are pushed, which makes you bend at the knees and adds power and precision into your heelside turns. Most womens snowboarding bindings feature a mechanism on the back of the highback for adjusting forward lean.
For freestyle riders, it's recommended to ride with zero (0°) forward lean. But if you're getting into all-mountain or freeriding, you may want to increase your forward lean by a few degrees.
Ankle Strap
The ankle straps is the primary attachment that holds your foot to the board. They wrap from the inside of your boot to the outside and their main function to hold your foot down. It's generally best to strap into a snowboard by doing the ankle strap first.
Toe Strap
The toe strap's main function is to pull your boot towards the heelcup of the binding. That's why it's the secondary attachment that holds your feet to the snowboard and should be done up second when strapping into a snowboard.
Ladders
Ladders are the hard rubber-plastic material with continuous ridges. They are what the ratchets lock into. They are made from a form of plastic that is very bendy and malleable. This prevents the material from getting rigid in cold air temperatures and possibly snapping or breaking. However, if your's does happen to break, you can find replacement ankle ladders here and replacement toe ladders here.
Footbed
This is the inside of the base plate of the binding and it's where you step into with your snowboard boot. Footbeds vary in support and cushioning.
Ratchets
Ratchets are the small mechanical parts that lock your straps to your ladders. They are usually made of aluminum or magnesium. They are meant to lock in securely and release effortlessly.
Base Plate
The base plate is the bottom portion of the binding. It includes a disk thats used to attach the binding to the snowboard with screws.
The disk in the base plate is considered a 'dead zone'. It a part of the binding's base that doesn't flex torsionally with a snowboard. Different brands manufacture different base plates to improve the torsional rigidity of bindings. Burton's EST bindings and Chanel mounting system are meant to be a solution to this problem.
Types of Womens Snowboarding Bindings
Strap in Bindings
These are the most common type of snowboard binding and are considered the traditional option. They're easy to use, secure, and responsive and have been the standard for ages. Just step in, crank the straps down and you're ready to go.
Rear-Entry Bindings
Rear entry bindings are identified by the highback's ability to drop down backwards, creating an opening so the boot can enter from the backside. This type of binding is synonymous with the snowboard brand Flow. However, other brands have tried their own variations on the rear-entry binding throughout the years.
Burton Step-On Bindings
The Burton step-on bindings are a recent product engineering innovation. Back in the late 90s and early 2000s, if you rented a snowboard at a resort you often got step-in boots and bindings. They were often criticized for their low performance quality and for that reason they mostly disappeared from ski and snowboard resorts and product lines altogether. Burton's Step-On bindings are both a revitalization and a significant improvement to this once obsolete binding type. They require specific Burton Step On compatible boots and allow you to easily step onto your binding and your boot's heel and toes will click and lock into place.
Different Mounting Systems
There are 4 main types of snowboard binding mounting systems out there.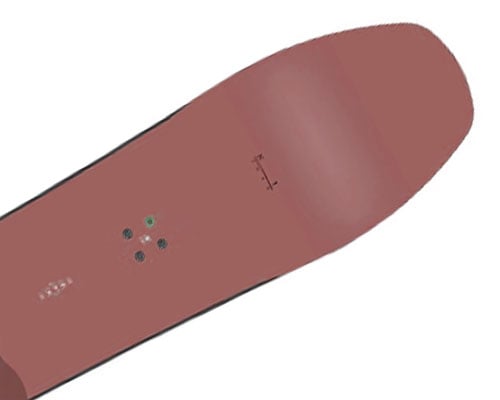 4×4 System
The 4×4 system is simple and straight forward. This system use to be more common, but nowadays the 2×4 system is more prominent. You have screw holes that are 4cm apart in rows that are 4cm apart. This mounting system works with the standard 4×4 binding disks. You use 4 screws per binding disk and the snowboard mounting points determine how wide or narrow you position your bindings.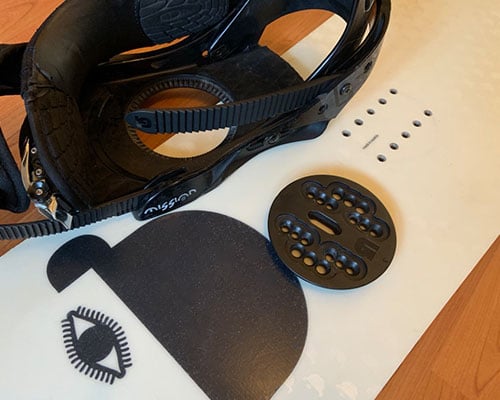 2×4 System
This system has become the current-day standard for snowboards. It's where you have holes that are 4cm apart width-wise but in rows that are 2cm apart along the length of the board. This system became so widely adopted because it gives you extra holes to choice where you fasten the binding. The 2×4 system is compatible with 4×4 binding disks.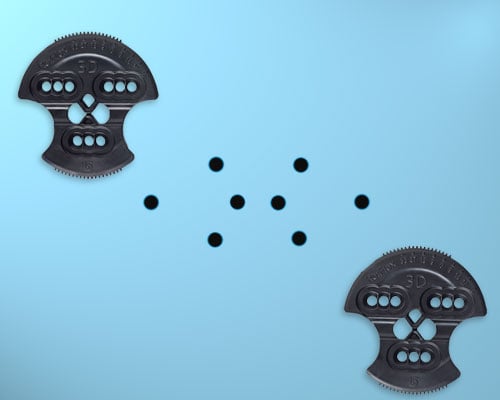 Burton's 3-Hole System
Burton is like Apple Computers; they like to innovate. Because of this, they manufacture products that are proprietary to their own equipment.
When they originally came out, Burton's 3-hole pattern was called the '3D' hole system. Burton no longer uses the 3D system anymore and has moved to the Channel. But there are still plenty of older Burton snowboards out there that you might see that still have the 3-hole pattern.
These binding disks only use 3 screws. Tip: if you have an older Burton snowboard with 3-holes, you should use Burton bindings. You're more likely to find backwards compatible disks available straight from Burton than if you were to use converter disks from another snowboard binding brand.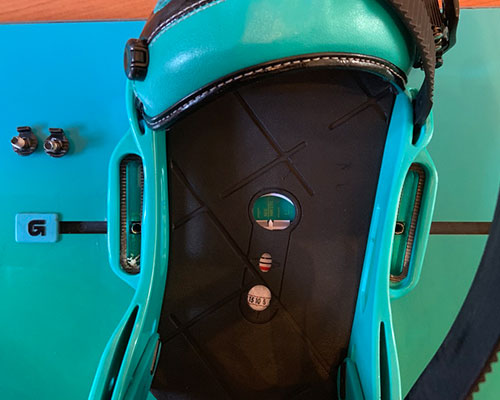 Burton Channel System
Back in 2005 Burton invented an all new way to fasten bindings to a board. All Burton snowboards nowadays have what's called the Channel system that requires Burton EST bindings and it boasts a few benefits.
This design has you fastening screws on the outside of the bindings baseplate. This means the whole base of your feet can flex across the board from toe-to-heel without a dead spot. The typical fastened disk plate is a part of a binding's baseplate that doesn't flex; it's a dead spot. So the Channel system creates a more responsive foot-to-board riding experience by removing the use of a disk.
Much like the 3-hole pattern, if you have a Burton Channel snowboard, you'll want to use Burton EST bindings. If you use non-EST bindings, Burton has compatible ReFlex disks you can use to mount to a Burton Channel board. But it's hard to find converter disks from other snowboard binding brands that's compatible with the Channel.
Where to Buy Womens Snowboarding Bindings
There are plenty of online retailers like EVO, TheHouse, The Boardroom etc.
By using the tips and information provided above, you should be able to pick out the type, style and size of womens snowboarding bindings that suits you best. Use your best judgement to find the best price and most reliable shipping if you order online.
But hands down the best way to buy snowboard bindings is to go to your local snowboard shop. And I'll tell you why.
Obviously, almost all the snowboard gear you could ever want can be purchased online. There are already plenty of reputable and reliable e-commerce stores to order from. But the in-person buying experience you get when you go to a snowboard shop can't be beat.
One of my favourite snowboard shops in the Greater Toronto Area is Corbett's in Oakville. The selection of products there is plentiful. I recommend investing the time to develop a relationship with the staff and shop owners.
---
Related Articles: