Womens snowboarding goggles need to be able to do 3 things. It's all about finding a pair that looks great, feels comfortable and keeps your eyes protected from the elements.
In order to find the perfect pair to buy you'll need to know a few things. In this ultimate guide we'll discuss the difference between women's and men's goggles, different shapes & sizes and how the different lens colours & tents work. Let's get into it!
The Ultimate Womens Snowboarding Goggles Guide
Are Women's Snowboarding Goggles Different from Men's?
Shapes and Sizes
Double and Single Lens
Lens Colour and Tints
Where to buy Womens Snowboarding Goggles
Are Women's Snowboarding Goggles Different from Men's?
Yes, womens snowboarding goggles tend to have more narrow frames than men's. Also the designs tend towards more curved lines and feminine colours. When it comes to fit, you'll wanna make sure that the foam lining of the goggles sits softly snug against your face.
The most important thing is making sure there are no gaps or open spaces. You want a complete seal around your face.
Gaps in the seal will allow air and moisture to seep in, which can cause your eyes to water or the lens to fog. We don't want that.
Shapes and Sizes of Womens Snowboarding Goggles
Womens snowboarding goggles come in many shapes but there are only two types of lenses.
Flat lenses, otherwise know as cylindrical lenses, curve horizontally across your face but the lens is vertically flat. Spherical lenses curve both horizontally and vertically across your face.
Flat lens goggles are considered more basic and therefore are priced lower. The flatness can cause glare and slightly reduces peripheral vision. Spherical lenses give better peripheral vision, less distortion and glare, but they cost more.
The larger the lens, the better your peripheral vision will be.
Double and Single Lens for Womens Snowboarding Goggles
Snowboarding goggles use to be made with a single lens. But now it's common to be made with double lens. They are always better than single lenses, here's why:
A single lens goggle only has one piece of polycarbonate, or plastic, between your eyes and the elements. It's designed only to provide some protection from the wind, snow and sun. There is no fog reduction.
Typically only kids, or junior, snowboard goggles as well as very inexpensive adult goggles are made with a single lens.
Double lenses are constructed with an outer lens that provides protection, then a small gap, followed by an inner lens to prevent fogging.
The small gap between the outer and inner lens creates a thermal barrier between your face, which gives off heat, and the cold air outside the goggle. With a complete seal, the inner lens will keep you face warmer and dry, while the outer lens keeps cold air out, preventing fog build up.
Lens Colour and Tints
There is a whole spectrum of different mens snowboard goggle lens colours and tints available to riders. Both the colour (outside lens) and tint (inside lens) affect your visibility independently of each other.
Lens Colours
The coloured outside lens filters specific colours of light that your eye would see. This is why you'll sometimes see a different shade of colour for everything when you first put on goggles. Eventually, your eyes compensate and things begin to look like their normal colours.
The tinted inside lens affects the amount of light that reaches your eyes. This is called visible light transmission (VLT) and it is measured as the percentage of light allowed through the lens between 0–100%.
Regardless of the outside lens colour, you can categorize lens into 2 groups based on VLT.
Lens Tints
Lighter lens tints have a higher VLT ratings because more light passes through the lens. Lighter lens tints are perfect for cloudy or overcast days and they brighten up your visibility. Overcast weather causes what we call flat light conditions. Mens snowboard goggles with a VLT ranging from 60-90% are best for flat light conditions.
Darker tints have lower VLT ratings because less light passes through the lens. You would wear goggles with darker tints on brighter, less cloudy days to reduce how much the sunshine reflects off the snow so you can see shadows better. On clear blue bird days you'll want mens snowboard goggles with a VLT ranging from 5-20% to help keep light from blinding you.
Clear lenses are appropriate for night skiing.
Generally, after you've been snowboarding for a while you'll own 2 pairs of goggles. One with a light tint and another with a dark tint. This allows you to snowboard night or day, either with sunny or cloudy conditions.
Other Fit Considerations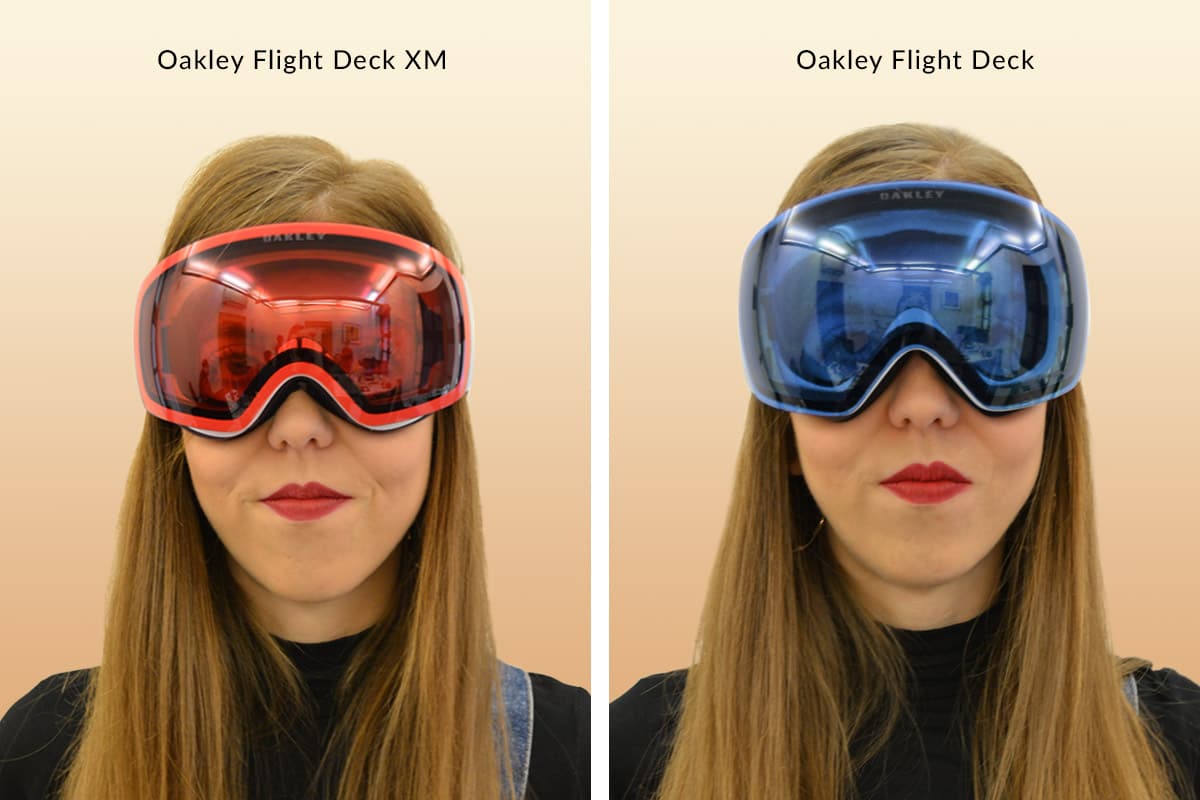 Most frames are made of polyurethane because it allows for some flexibility. In general, a more flexible frame is best for cold temperatures.
Helmet compatibility: Virtually all goggles are helmet-compatible, but it's still a good idea to try on new goggles with your helmet to ensure a comfortable fit. For more on helmets, see our ultimate guide.
Strap adjustments: Most goggles have a single, sliding clip to make adjustments. Others may have an open/close buckle with sliding clips on each side for adjustments. Some children's goggle straps are not adjustable.
Padding: This keeps the goggle from pinching your face. Foam should be thick enough to cushion your face but not be so thick that it promotes fogging. High-end goggles may use 2 or 3 layers of thin padding to enhance venting.
OTG (Over the Glass) styles: If you wear prescription glasses, look for goggles designed to fit over your glasses, often referred to as OTG (Over the Glass) styles. These have space to accommodate glasses while avoiding pressure on your face from the temples and nosepiece. (Tip: You can use an anti-fog treatment on your eyeglasses to help keep them clear under the goggles.)
Other Features of Womens Snowboarding Goggles
When warm air from your body heat meets cold air from the outside temperature, condensation can form and your vision is compromised. Goggles use a variety of approaches to avoid fogging.
Double-layered lenses are found on virtually all goggles since they do not fog as fast as single-layered lenses. Sealed properly, they create a thermal barrier (like storm windows) that is more resistant to fogging.
Anti-fog coatings are integrated into virtually all mid-level to high-end goggle lenses to help deter fogging. Anti-fog products can be used on lower-end goggles without a coating or on old goggles that are starting to fog.
Vents: The top, sides and bottom of goggles are the keys to help control fogging. Wider vents generally create better ventilating airflow than smaller venting holes. The trade-off? Your face may get cold, particularly in extreme climates.
Fans: A few high-end goggles include small, battery-operated fans to help disperse moisture. Fans with different settings can be adjusted for standing in a lift line, riding the gondola or going down the slope.
Where to Buy Womens Snowboarding Goggles
I always recommend going into a snowboard shop when purchasing womens snowboarding goggles. I think it's best to physically try on different pairs. You can buy goggles online and make your purchase based on online reviews. But I still think going into your local shop is the best buying experience.
If you shop somewhere with knowledgable snowboarding staff who have been trained with product knowledge you'll get the best service. I like going to Corbett's in Oakville. I use to work there for multiple seasons when I was younger so I know the staff are reliable.
---
Related Articles: