After the boots your womens snowboarding helmet is the next most important piece of gear. Never leave home without it! Wearing a helmet is not only practical, it's essentially a must.
One bad fall can change your life, that's why wearing a helmet is so important.
When you plan to go out and ride, you'll need a helmet that will keep you protected while also keeping your head warm and comfortable.

In this guide we'll explain how to find the right fit and size, different construction materials, compatibility with goggles and adjustable features. It's everything you need to know before you buy your own womens snowboarding helmet.
The Ultimate Womens Snowboarding Helmet Guide
Sizing and How to Find the Right Fit
Construction Materials
When to Replace a Snowboarding Helmet?
I Have a Helmet from a Different Sport, Can I Use it for Snowboarding?
Compatibility with Goggles
Features and Tech
Where to Buy Womens Snowboarding Helmet
Sizing and How to Find the Right Fit
Most brands carry helmets in small, medium, large and sometimes extra large. The sizes correlate to ranges in the circumference of your head measured in centimeters (cm). If you have a way of measuring your head–maybe you own a tape measure–great, otherwise, you'll need to physically try on a few different helmets. Most helmets have a dial system that allow you to micro-adjust the helmet for a precise fit. Start by finding the right size womens snowboarding helmet, then fine-tune the fitting is the best way to choose.
You can use this sizing chart as a reference if you can't get to a store and need to buy online.
A helmet should feel snug but not tight. Here's how you'll know if you have the right fit:
If the helmet can rock back and forth, the fit is too loose.
Shake your head from side-to-side. If the helmet shifts, try a smaller size or micro-adjust the dial system.
Push up the front and back edges. If they move, tighten the straps.
Construction Materials
Most buyers don't know this but there are many different types of helmet construction and materials. You wouldn't realize how much some helmets differ from others just by looking at their cosmetic differences. First we'll discuss the different womens snowboarding helmet construction types, then the materials used.
In-Mold Construction
When it comes to these particular types of womens snowboarding helmets, there is a hard plastic shell that is used for the outer layers. The plastic is molded onto an Expanded Polystyrene (EPS) foam liner, which is a fancy way of saying styrene foam. It's used to absorb the impact of a fall and traditionally offers less rebound. For the most part, these are the lightest helmets available.
Hard Shell ABS Construction
When it comes to these womens snowboarding helmets, the Hard Shell ABS variety makes use of a much thicker Acrylonitrile Butadiene Styrene (ABS) plastic for the outer shell. It's manufactured and then glued onto another hard foam layer (interior) and the liner – it's the most optimal option for those who want both security and affordability.
Soft Shell Construction
Soft shell helmets aren't designed to take the impact that the other two options are, but they still provide an exceptional amount of protection. Most of the time, you'll find that soft shell helmets have two different kinds of foam inside (to promote a more secure helmet in general); the harder foam will be on the outer layers for protection and the softer foam will be close to your head for comfort.
When to Replace a Snowboarding Helmet?
Womens snowboarding helmets are designed for a singe-impact. Meaning that once you take one strong impact to the head, the helmet will have lived out its usefulness and will need to be replaced.
You'll be able to tell if you've had an impact hard enough to now render the helmet useless. If you remove any padding or cushions in your helmet to expose the hard foam, you'll notice it has cracks or pieces that have crumbled. Regardless of how small the cracks, the helmet has lost its structural integrity and it's time for a new one.
I Have a Helmet from a Different Sport, Can I Use it for Snowboarding?
If you have a helmet from skateboarding, BMX bike riding, snowmobiling, inline skating etc. you should not use it for snowboarding. You should use a snowboard helmet for snowboarding.
This is because helmets must be certified by a regulatory body to approve they're safe to use. Certification is based on the helmet's design to protect the user from certain types of falls or impacts that would occur during the specific sport. Therefore, helmet safety approvals are slightly different for each sport.
Compatibility with Goggles
Most of the time you won't have any issues with how the shape of your goggles fit with the shape of your womens snowboarding helmet. Generally, womens snowboarding goggles will interface with your helmet perfectly fine.
However, on the rare occasion you might find that they don't fit right. There will be gaps or small spaces where airflow can get in. This is a compatibility chart for Oakley goggles. The chart displays which goggles will fit well with other brand's helmets.
You want the shape of your goggles and your helmet to integrate well. There should be no gap between the top of your goggles and the helmet.
Make sure the helmet fits snugly to the top of the goggles, but not so low that it hinders vision or pushes down the goggles.
You want your goggles to fit comfortably with your goggle strap over the helmet. Some people wear their goggle strap below their helmet while also wearing a toque or beanie. I don't prefer this as I find it can make my head itchy. I find myself twisting and adjusting the helmet to scratch an itch.
I recommend wearing the goggle strap over the helmet. I also stay away from wearing a toque or beanie underneath. Sometimes I'll use the hood or my hoodie and then wear my helmet overtop if I want to protect my neck and ears from wind.
The best is when you can wear a balaclava under your helmet. The balaclava in thin and will wick any moisture from sweating, keeping you dry and warm without the bulk of wearing a toque or beanie. A properly fitted helmet and goggles will feel great and will keep you out on the slopes for longer.
Features and Tech
Fitting Systems
Most helmets will feature adjustable fitting systems. It's usually a dial that you can turn to tighten and loosen the fit. There are some other fitting systems out there, including:
Adjustable Wheel System – This fitting system allows the rider to customize the tightness of their helmet through the use of a dial. It's a finely tuned option that will allow riders to "pin-point" that perfect level of snug!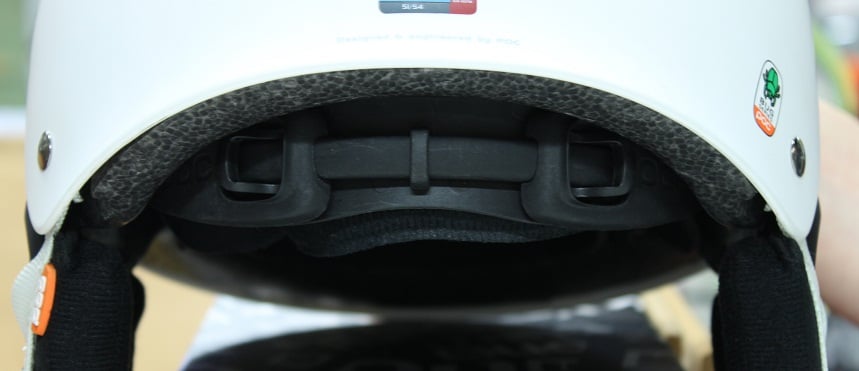 In-Form Fitting System – Somewhat similar to the adjustable wheel system, this one makes use of a ratchet for tightening purposes. You can adjust the size of your helmet both horizontally and vertically.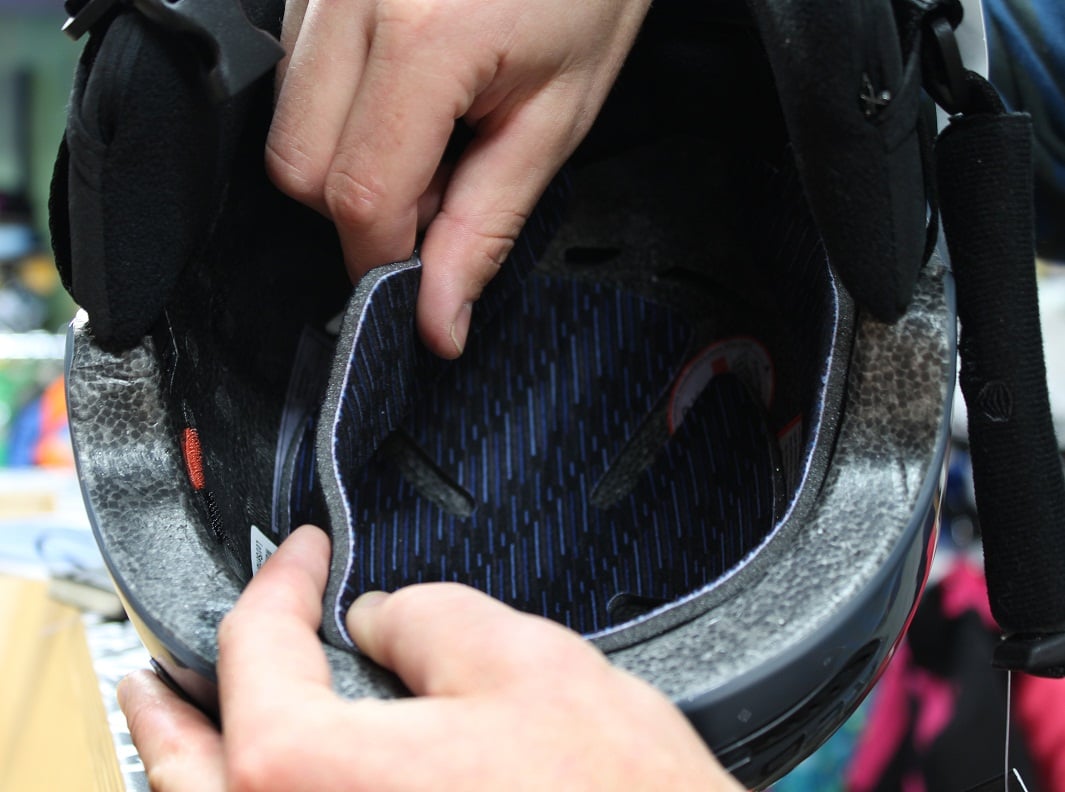 Pad Systems – These womens snowboarding helmets have pads inside that can be removed to change the level of tightness that you experience. It's perfect for those riders who value comfort over everything else, especially the younger generation.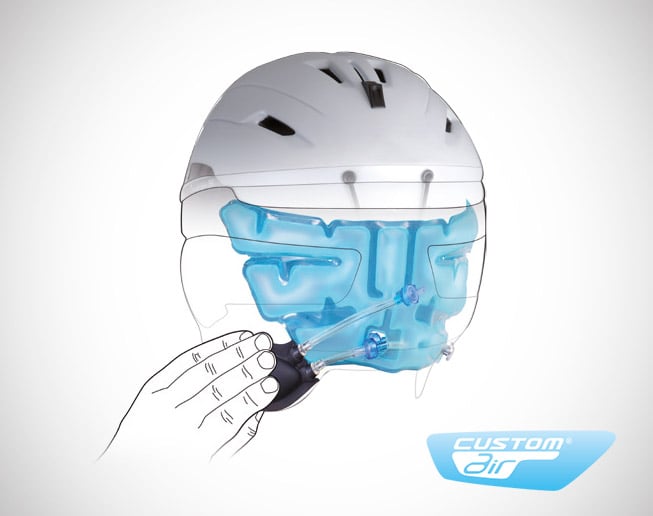 Air Fit – A small headband is attached inside of the helmet, providing you with the ability to inflate and deflate the interior of your helmet at will. Controlling the snugness of your helmet through the magic of air is much easier than you would expect.
Venting Systems
Fixed Venting – Almost all helmets have some form of open, passive venting built into their design that allows for excess heat and moisture to escape. These systems are generally simple and cannot be personally adjusted. Each company sets up their venting systems in different ways to reflect what they see as necessary.
Adjustable Venting – Helmets with adjustable venting systems give you the ability to open or close the holes to fit your needs depending on the weather conditions. A variety of adjustable systems are used by companies including plugs, sliding mechanisms, and one-push buttons. Choosing a specific system is mostly up to your personal preference.

Where to Buy Womens Snowboarding Helmet
If possible, try on helmets at your local snowboard shop. I like to go to Corbett's in Oakville, Ontario. Tip: bring your goggles with you to the store and try them on with the helmet.
Sometimes its not possible to go to a store so you can always buy womens snowboarding helmets online. You'll have to be more cautious though, as you'll want to make sure your helmet is compatible with your goggles. When buying online double-check that there is a return policy incase the helmet doesn't fit quite right. You'll want to be able to return it or exchange it for something else.
Now that you know how to find the right fit, as well as what construction types are available, you should be able to navigate the market accordingly. 
---
Related Articles: